Kurulus Osman Season 4 in Urdu Subtitles | Episode 1 in Urdu
Season 4 of Kurulus Osman Series shooting has been started. First Episode of Season 4 will release in the first week of October.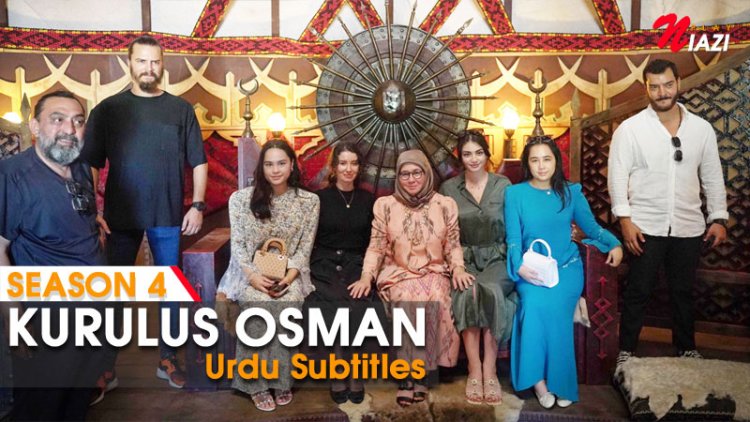 Kurulus Osman Season 4 in Urdu Subtitles
The shooting of Kurulus Osman Season 4 has been officially started today on 24th August 2022. The trailer will shot today and if all goes well, the trailer will be released on September 1 on once again Turkish most famous ATV Channel. Kurulus Osman Season 4 first episode will be released on 12 Oct, 2022. Mehmat Bozdag, the producer of the Kurulus Osman series has said in his tweet that;
"The regular shooting of season 4 will start in September. The first episode will air in the first week of October. However, training for new entries has already begun."
In the Kurulus Osman Series, the battle was related to real historical events the only difference was in history this battle happened to reconquer Karacahishar Castle when Kalanoz killed Savci . In history Sultan first joined Osman in this with all his resources and than left him in between the battle because Karamanoghlu started marching towards Konya . Sultan left for konya but leave his resources ( sige equipments) to Osman. Later Osman used those equipments to Conquer Inegol Castle alongside Turgut and as expected neither Inegol Castle is Conquered nor Nikola died . Which indicates they might introduce #Turgut next season . In season 3 we'll see all these 3 Castle's will be Conquered nd Osman will announce his own independent Beylik .
Mehmat Bozdag About Kurulus Osman
Mehmat Bozdag further said in his tweet that;
"We were honored to host the Queen of Malaysia Azizah Aminah, who loves our TV series and follows them with interest, and Princesses Afzan Aminah and Jihan Azizah on our platform. I thank them very much for their visit and convey my greetings to the brotherly people of Malaysia."
Kurulus Osman Season 4 Release Date & Trailer
We are very happy to announce that Season 4 of Kurulus Osman is starting very soon. It has already been announced when Kurulus Osman Season 4 will start. The people of Pakistan, Bangladesh, India, Turkmenistan are eagerly waiting for the new episode of Season 4. Kurulus Usman season 4 will start shooting on August 24. The first trailer will arrive at the end of September and the first episode of season 4 is expected in the first or second week of October.
Kurulus Osman Season 4 Story
Season 4 will show the situation in 1302 two years later. The first episode will show the battle of Bafios. The 99th episode of Kurulus Osman will be aired on Wednesday, October 1st week, 2022 at 8pm. Trailer of Episode 99 will released on 5th October 2022. Season 4 is starting in a new way with some days off. This season will end on 14th June 2023 and Kurulus Osman will end with 137th episode. There will be a total of 35 episodes in season 4 of Kurulus Osman. The Kurulus Osman (Season 4) is the fourth season of the Turkish-made television series Kurulus Osman.
Kurulus Osman Season 4 Cast
Let's not know who will act this season. The cast of the new season of the series includes Serhat Kılıç (Mikhael Kosses), Rüzgar Aksoy (Turgut Bey), Yıldıray Şahinler (Rogatus Laskaris) and other actors. Also this season of the series, Maruf Otajonov (Geyhatu) and Şener Savaş (Sultan Mesut; as guest actor) re-enter the cast. Kurulus Osman is the last part of season 3 Osman Bay is once again has embroiled in a feud with his old enemy, Tekfur Aya Nikola, who had aided by a Catalan company that includes Diego and leader Anselmo.
Analysis of Upcoming Kurulus Osman Season 4
Osman Bay was finally able to defeat the Catalans. Tekfur wants to marry nanny Nicola Marie [Mikhail Kosses' sister] who falls in love with Turgut Bay instead. He forcibly fled the alliance and soon married Turgut Beck with the blessing of his brother. Later, Osman Bay and Bala Hatun blessed a baby boy named Alauddin Ali. A huge banquet has held to celebrate this joyous occasion.
Meanwhile, Osman and his Alps brought both Alemshah and Gehatu to their tribe to hold them accountable for their deeds, and Alemshah had executed by Osman despite the disapproval of Sultan Mesud. Later, Maryam Hatun (Marie), the pregnant wife of Turgut Bay, died of poisoning and came under suspicion for Gunduz Bay. Osman, determined to harm his people in order to prove his brother's innocence, faced many obstacles in the face of a new enemy and his plans to form a future state. He successfully has conquered Ingol and Yenisehir but has tragically martyred among his close ones including his elder brother Gunduz. His adoptive mother Selkan and his cousin Aigul.
Queen of Malaysia Visit to Kurulus Osman Set
As the Queen of Malaysia visited the set, and it was She was received by Muhammad Bozdag and some of the great actors. Similarly, last year, Arif Alvi, the President of the State of Pakistan visited the shooting site for the third season, a few days before the start of filming. This clearly means that the staff is ready and the actors are ready to start shooting for the fourth season. But according to my analysis, this filming will be for the teaser, not for the episode. Just like the second season, where two teasers had released for the second season, and then two official announcements for the episode. There will be no major change in the appearance of the characters because it will be a short time jump.
Let me put the point on the letters, and I explain to you the dates that passed before the start of the third season. We coincided with the fourth season. Last year, then the promotional advertisement for the atv channel will have released on September 1, which indicates at the very least that the announcement will on 1 or 2 next month and also the teaser . For the series, then its release on September 5. Which means that the new look of Othman and other actors will seen between September 5 and 10. And we don't forget that the announcement of the new organized actors came on August 28, i.e. this month. We can see who they are The new characters, and that's what we've already started hearing.